INASPETTATAMENTE (UNEXPECTEDLY)
250 ARTISTS – 315 ARTWORKS – 1 COLLECTION
CURATED BY FRÉDÉRIC DE GOLDSCHMIDT AND GREGORY LANG
4 DAYS OPENING WEEKEND WITH ONGOING PERFORMANCE PROGRAM
THURSDAY 11.11, FRIDAY 12.11, SATURDAY 13.11, SUNDAY 14.11
2 PM > 7 PM  (LAST ENTRY 6 PM)
It is necessary to book a time slot to visit the exhibition on our website.
FREE AND GUIDED VISIT DURING THE EXHIBITION
17.11.2021 > 30.01.2022
Wednesday > Saturday
2 PM > 7 PM  > book a time slot to visit the exhibition on our website
Closed for the Christmas holiday and with special hours during BRAFA 2022.
CLOUD SEVEN
7 Quai du Commerce – 1000 Brussels
#inaspettatamente  @cloudseven.be
#frederic_net  #gregorylangsolang
The group exhibition Inaspettatamente takes its name from an embroidered artwork by Alighiero Boetti. Frédéric de Goldschmidt and Grégory Lang imagined how Boetti himself might have selected works from the Frédéric de Goldschmidt Collection. Together, they explored themes such as order and disorder, time, process, duality and otherness, as well as the position of the artist in the world, with poetic and geopolitical reflections that consider the current state of our uncertain times.
Inaspettatamente features sculpture, painting, video and mixed media from historical, emerging, and more established international artists.
The performance program for the opening weekend includes : Guillaume Barth, Jean-François Boclé, Marc Buchy, Lieven De Boeck, Alexis Gautier, Benjamin Sabatier, Fabrice Samyn and Ibrahim Tamditi, Laurence Vauthier, among others artists who present their works in the exhibition.
At this occasion we launch a new book published by Mercartorfonds and distributed by Yale University Press, with contributions by: Nicolas Bourriaud, Frédéric de Goldschmidt, Christine Jamart, Agata Jastrząbek, Grégory Lang, Donatienne de Séjournet and Dirk Snauwaert.
Full House: One Space, two Shows, 307 Artists, and 400 Pieces from the Frédéric de Goldschmidt Collection
304 pages, 31 x 21 cm, with exhibitions images
ISBN: 9789462302853 – Price: 59,95 €
To order the book: https://mercatorfonds.be/fr/product/full-house/

Inaspettatamente, exhibition view, 2021 – courtesy Cloud Seven, Brussels – Hugard & Vanoverschelde Photography
Works by Julian Charrière, Harold Ancart, Alighiero Boetti, Wolfgang Tillmans, Elodie Seguin, Guillaume Barth, Analia Saban, Eva Medin, Anselm Kiefer, Benoit Platéus
Artists exhibited
Ignasi Aballí, Mathieu Abonnenc, Saâdane Afif, Helena Almeida, Harold Ancart, Alice Anderson, Jacques André, Joël Andrianomearisoa, Claire Andrzejczak, Cory Arcangel, Athanasios Argianas, Kader Attia, Bernard Aubertin, Babi Badalov, Elena Bajo, John Baldessari, Mirosław Bałka, Jill Baroff, Guillaume Barth, Éric Baudelaire, Oliver Beer, Larry Bell, Neïl Beloufa, Walead Beshty, Viktoria Binschtok, Sara Bjarland, Mel Bochner, Katinka Bock, Jean-François Boclé, Alighiero Boetti, Louise Bourgeois, Mohamed Bourouissa, Amélie Bouvier, Aline Bouvy, David Brognon & Stéphanie Rollin, Marcel Broodthaers, Marc Buchy, Carlos Bunga,Tom Burr, Rui Calçada Bastos, Pier Paolo Calzolari, Sergio Camargo, Jota Castro, Alejandro Cesarco, Alan Charlton, Julian Charrière, Marieta Chirulescu, David Claerbout, Cameron Clayborn, Clément Cogitore, Anne Collier, Mary Corse, Margaret Courtney-Clarke, Attila Csörgo, Céline Cuvelier, Dadamaino, Hanne Darboven, Lieven De Boeck, Berlinde De Bruyckere, herman de vries, Edith Dekyndt, Aleksandra Domanović, Cheryl Donegan, Jürgen Drescher, Leonardo Drew, Jimmie Durham, Lionel Dury, Lionel Estève, Aniceto Exposito Lopez, Sam Falls, Wen Fang, Simone Fattal, Jean Fautrier, Serena Fineschi, Lucio Fontana, Günther Förg, Zachary Formwalt, Fernanda Fragateiro, Michel François, Cyprien Gaillard, Marcius Galan, Flavia Gandolfo, Cristina Garrido, Theaster Gates, Alexis Gautier, Marianne Gilbert, Sophie Giraux, Ferenc Gróf, Nadia Guerroui, Shilpa Gupta, Hong Hoa, Hans Hartung, Jan Henderikse, Gregor Hildebrandt, Christian Holstad, Roni Horn, Rowena Hughes, Ištvan Išt Huzjan, Anne Imhof, Guðný Rósa Ingimarsdóttir, Christian Jankowski, Andreas Johnen, Rolf Julius, Marin Kasimir, Jacob Kassay, Bronwyn Katz, Will Kerr, Anselm Kiefer, Jonna Kina, Kapwani Kiwanga, Yves Klein, Maria Kley, Imi Knoebel, Jannis Kounellis, Nicolas Kozakis,  Gabriel Kuri, Alicja Kwade, Mehdi-Georges Lahlou, Nicolás Lamas, Elad Lassry, Matthieu Laurette, Bertrand Lavier, Louise Lawler, Paulo Roberto Leal, Guillaume Leblon, Sonia Leimer, Annette Lemieux, Elizabeth Lennard, Sol LeWitt, Ella Littwitz, Peter Liversidge, Jason Loebs, Richard Long, Ariane Loze, Adolf Luther, Jorge Macchi, Heinz Mack, Alastair Mackie, Luciana Magno, Karel Malich, Édouard Manet, Curtis Mann, Piero Manzoni, Didier Marcel, Yves Marchand & Romain Meffre, Brice Marden, Megan Marrin, Agnes Martin, Rodrigo Matheus, Alexander May, Stefana McClure, Eva Medin, Vincent Meessen, Yerbossyn Meldibekov, Mario Merz, Wobbe Micha, Jonathan Monk, Gareth Moore, François Morellet, Aline Motta, Carlos Motta, Simon Mullan, Dave Muller, Lais Myrrha, Erin Jane Nelson, Shirin Neshat, Olaf Nicolai, Otobong Nkanga, Musa N. Nxumalo, Pat O'Neill, Maud Oakes (after Jeff King), Roman Opalka, Lisa Oppenheim, Gabriel Orozco, Damián Ortega, Jurgen Ots, Michel Parmentier, Claudio Parmiggiani, Mano Penalva, Henri Ernst Pfeiffer, Otto Piene, Diogo Pimentão, Benoit Platéus, Sascha Pohle, Laure Prouvost, Walid Raad, Jon Rafman, Enrique Ramírez, Robert Rauschenberg, Josué Rauscher, Renaud Regnery, Roger Remacle, Louis-Cyprien Rials, Evariste Richer, David Rickard, Ragna Róbertsdóttir, Tim Rollins & KOS, Analia Saban, Benjamin Sabatier, Sebastião Salgado, Fabrice Samyn, Vittorio Santoro, Tomás Saraceno, Jan Schoonhoven, Hugo Scibetta, Peter Scott, Elodie Seguin, Paul Mpagi Sepuya, Raja Babu Sharma, Gedi Sibony, Quentin Sietzen, Katrín Sigurdardóttír, Elias Sime, Michael E. Smith, Valérie Snobeck, Société Réaliste, Frances Stark, Sarah Sze, Edouard Taufenbach, Marjan Teeuwen, Alessandro Teoldi, Hank Willis Thomas, Wolfgang Tillmans, Jean Tinguely, Mark Tobey, Barthélémy Toguo, Luis Tomasello, Rosemarie Trockel, Francisco Tropa, Oscar Tuazon, Joëlle Tuerlinckx, Daniel Turner, Günther Uecker, Paul Van Hoeydonck, Isaac van Nikelen, Laurence Vauthier, Vuk Vidor, Kees Visser, Franz Erhard Walther, Andy Warhol, Lawrence Weiner, Marthe Wéry, Letha Wilson, David Wojnarowicz, Margo Wolowiec, Otto Wols, Agustina Woodgate, Héctor Zamora, Herbert Zangs, Zao Wou-Ki.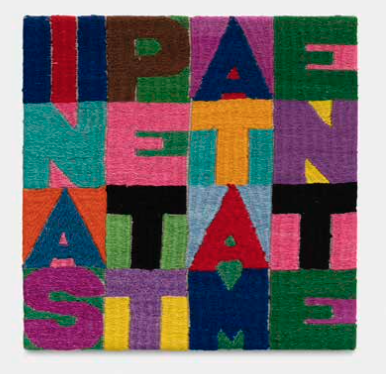 Alighiero Boetti, Inaspettatamente, 1987 © SIAE 2021- courtesy Fondazione Alighiero e Boetti
Solang Production Paris Brussels www.solang.fr
contact Gregory Lang – Curator – Art Producer – Art Consultant
+33 660 680 442 gregory@solang.fr
Instragram: gregorylangsolang